Mind the STEM Gap – International Conference
SAVE THE DATE: Friday, February 11, 3 pm (GMT+4) – Live streaming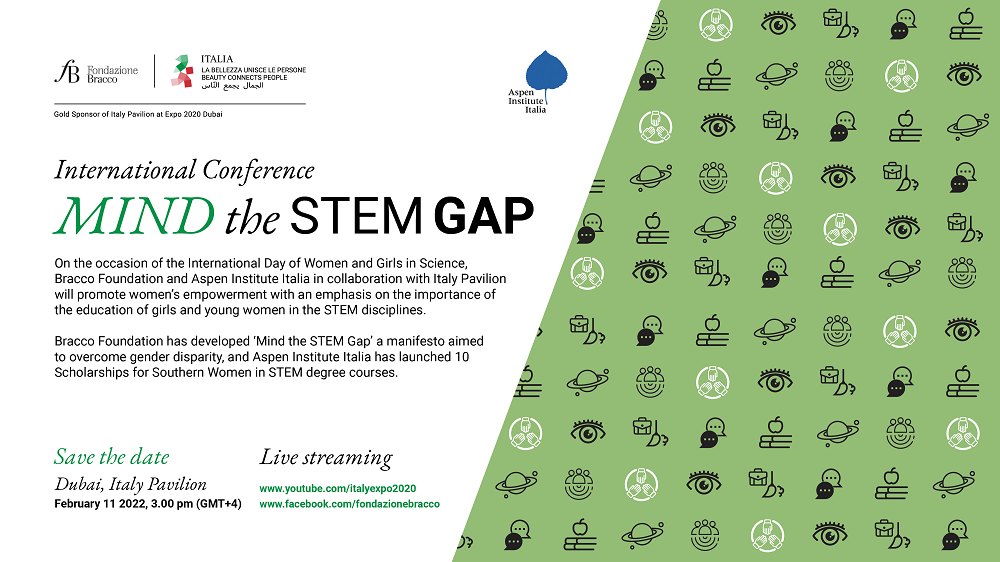 On the occasion of the International Day of Women and Girls in Science, on February 11, Bracco Foundation and Aspen Institute Italia in collaboration with Italy Pavilion at Expo 20202 Dubai will promote women's empowerment with an emphasis on the importance of the education of girls and young women in the STEM disciplines.
Bracco Foundation – a supporter of the 100esperte database, which is part of ENWE – European Network for Women Excellence – has developed "Mind the STEM Gap" a manifesto aimed to overcome gender disparity, and Aspen Institute Italia has launched 10 Scholarships for Southern Women in STEM degree courses.
Follow the live streaming at this link.
AGENDA

OPENING REMARKS
Paolo Glisenti, Commissioner General Italy Pavilion, Expo 2020 Dubai
Diana Bracco, President, Bracco Foundation
Elena Zambon, Vice Chairman, Aspen Institute Italia

INSTITUTIONAL REMARKS
Patrizio Bianchi, Italian Minister of Education
Maria Cristina Messa, Italian Minister of University and Research

PANEL DEBATE
Chair Monica Maggioni, Director of TG1, RAI
Speakers Maria Chiara Carrozza, President, CNR
Rana Dajani, President of the Society for Advancement of Science and Technology in the Arab world
Eleonora Dondossola, Faculty at the MD Anderson Cancer Center in Houston, Texas; #100esperte project
Ersilia Vaudo, Chief Diversity Officer, ESA; #100esperte project

Q&A WITH YOUTH PRESENT AT ACCADEMIA OF ITALY PAVILION

PRESENTATION OF MIND THE STEM GAP MANIFESTO
Gaela Bernini, Secretary General of Bracco Foundation

PRESENTATION OF THE ASPEN SCOLARSHIPS IN STEM DISCIPLINES
Marta Dassù, Senior Advisor European Affairs, Aspen Institute Italia; #100esperte project
Alberto Quadrio Curzio, President Emeritus, Accademia Nazionale dei Lincei; General Council Aspen Institute Italia

CLOSING REMARKS
H.E. Hessa bint Essa Buhumaid, UAE Minister of Community Development (TBC)
Elena Bonetti, Italian Minister for Family and Equal Opportunities