100esperte Sport, A More Equal Look at the Sports Industry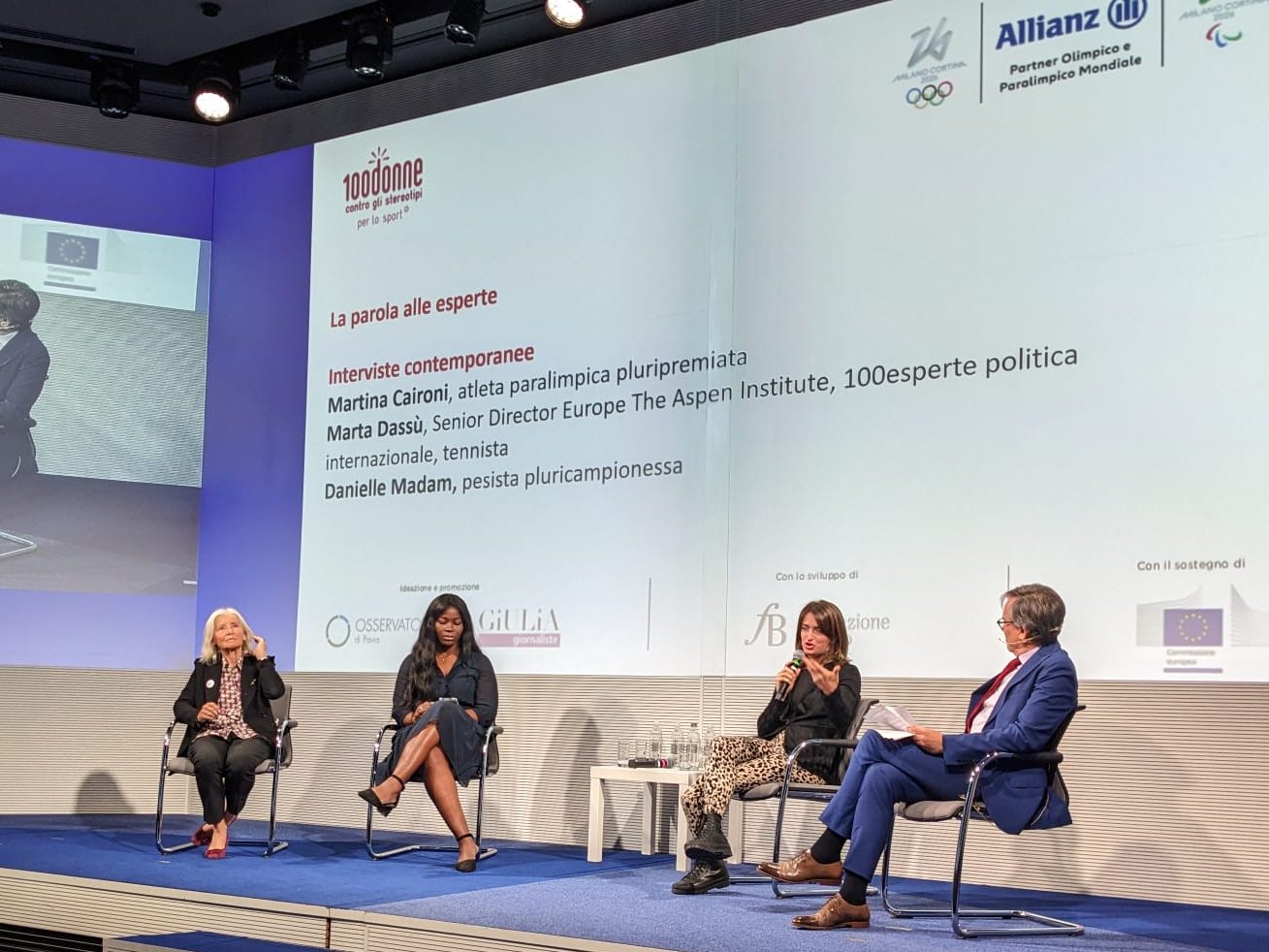 Following the inclusion of women scientists, economists, and international political specialists, it's time to amplify female sports experts' voices.
ENWE is delighted to announce the launch of a new section in the Italian women experts' database 100esperte from our network dedicated to women in sports.
Founded by the Osservatorio di Pavia and the GiULiA association of women journalists, with the support of the Bracco Foundation and the European Commission, 100esperte has collected profiles and contacts of women experts since 2016. Initially focusing on STEM specialists, 100esperte expanded to include experts in Economics and Finance, International Politics, History, and Philosophy. Now, the team has decided to turn the spotlight on the many women with expertise in the sports industry, such as former high-level athletes and professionals with knowledge of sports' historical, technical, medical, sociological, and philosophical aspects. Like other female experts, they face challenges having their opinions heard in a predominantly male-dominated environment.
According to the 2020 edition of the Global Media Monitoring Project (GMMP) Report, a comprehensive international research project on women in the news, only 4% of sports news is dedicated to women. Moreover, media coverage of women in the sports industry is limited, with only 14% of women's stories receiving coverage compared to 86% of men's stories, and very few opportunities for them to be interviewed as experts. The GMMP Report, which analyzed 30,172 news stories across five types of media in 116 countries, highlighted that only 1% of sports-related news addresses gender equality or inequality, despite sports being the fifth most covered topic globally. This calls for urgent action.
The new sports section of the 100esperte database was unveiled in Milan on May 5. The ceremony, hosted by journalist Alessandro Cannavò at the Allianz Palace, featured notable speakers such as former Paralympic athlete and Vice President of the Culture Commission, Senator Giusy Versace, CONI vice president and former ski champion Claudia Giordani, and President of the Bracco Foundation, Diana Bracco. Andrea Varnier, CEO of the Organizing Committee of the Milan Cortina 2026 Olympic and Paralympic Games, also attended and announced that the games would strive for nearly equal gender representation, with almost 47% female participating athletes.
Distinguished Paralympic athlete Martina Caironi and former weightlifter Danielle Madam shared their experiences during the ceremony. Caironi and other sports stars such as Josefa Idem, Novella Calligaris, Tania Cagnotto, and Claudia Giordani have been included in the database.
Excitingly, the project also features recorded interviews with former soccer player Katia Serra and sports lawyer and marathon runner Maria Luisa Garatti. These interviews are the first in a series of portraits that will be published on the 100esperte website. Giulia Bertella Farnetti, daughter of the late Giovanna Pezzuoli, one of the co-founders of 100esperte, has created these interviews, carrying on her mother's legacy.
The 100esperte database currently includes profiles and contacts of the first 33 sports experts, alongside the existing 430 experts in other fields. Their expertise, credentials, and contact information are readily available for those interested in interviewing them. 
Access to the database is free, and the experts' qualifications are certified by research institutes and universities. A scientific committee meticulously selected the sportswomen based on rigorous criteria, which can be found on the website. Notably, this new group encompasses former female professionals and Paralympic athletes, adding a unique perspective on topics such as disability and inclusion.
ENWE – European Network for Women Excellence is an advocacy group committed to creating a network of European databases that offer an extensive selection of prestigious female profiles for interviews, conferences, and panels. Find out more about our network of partners here.