A First Meeting and a Look to the Future
An overview of the "How to promote a European network for women excellence" panel from the ENWE First Step to the Top event, held in Milan on December 2.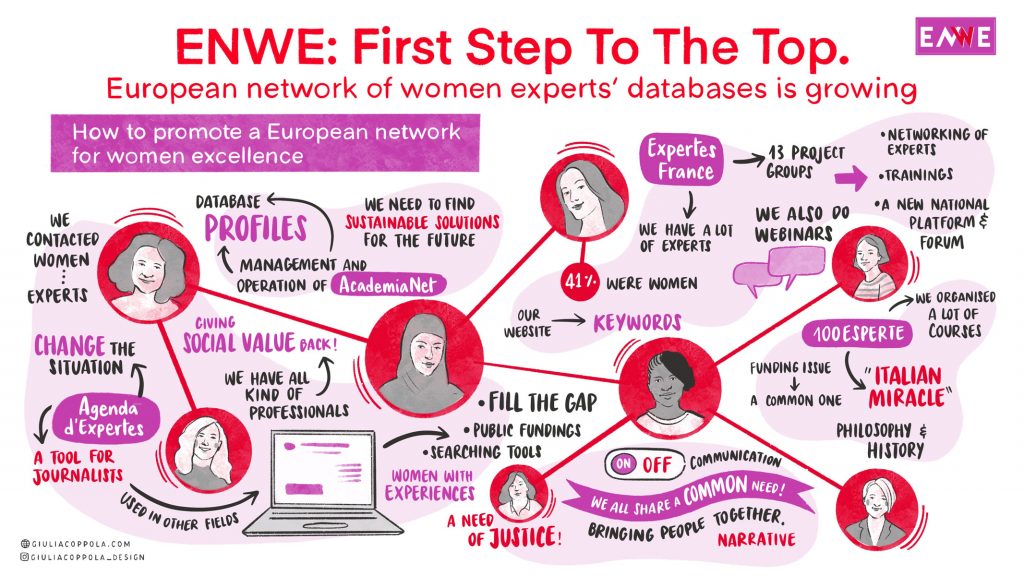 By Luisella Seveso
The first in-person meeting with the four European Network for Women Excellence's European database representatives was an important and anticipated moment. Finally, after the conference held on December 2, 2021, in Milan, we can speak of a new communal proposal to promote women experts in European media and panels. Les Expertes, AcademiaNet, Agenda d'Expertes, and 100esperte are the first four members of a network that will hopefully grow over time. Even if they were born at different times and in different places with different criteria, these projects are similar: all stem from the consideration that capable and qualified women are plenty, and it is time to give them a voice. The silence they are left in deprives the world of half of the knowledge that we can consider as universal patrimony.
"No more excuses" is the motto chosen by AcademiaNet, a German and Swiss project that focuses its activity on female scientists. No more excuses – say the founders – will be tolerated from those who ignore the presence of women doctors, surgeons, physicists, astrophysicists, and all other female scientists. Not only in the media and corporate landscapes but also in the academic field, where women's presence is still scarce in the top ranks. The motto is a powerful call and a first unifying point for all the four databases hosted by ENWE. "Academia – says Simona Isler, head of Gender Equality in Research Funding at the Swiss National Science Foundation – is a European database with around 3500 profiles of highly qualified female scientists, [representing over] 40 countries." Chosen by 43 scientific organizations from 18 countries, AcademiaNet offers these professionals and academics excellent visibility: the database boasts over 20,000 views by 3,600 registered users, who can access the experts' contacts and profiles. Founded in 2010 thanks to funding from the Robert Bosch Stiftung, from 2020 until 2024 AcademiaNet has been managed and financed by the Swiss National Science Foundation and supported by about twenty organizations in various capacities, for a total budget of 250,000 euros a year. It is an excellent situation to be in, but not quite enough – and this is the second common point among the four projects to change the cultural landscape.
How to spread awareness? And what kind of initiatives could bring more visibility to the project? That is a challenge that all four databases face, including Les Expertes, founded seven years ago as a paper contact book on Chékéba Hachemi and Marie Francoise Colombani's initiative. Featuring four types of expert profiles of women in roles such as researchers, managers, presidents of associations, or heads of institutions, in 2015, the book became the web database expertes.fr. It expanded from France across French-speaking countries, such as Algeria and Tunisia, and from 2022 it will include Senegal, too. It is supported by 13 media groups and the Ministry of Culture, which recognized the importance of the project. Julia Heres Garcia, project manager of the Gender Experts provided some figures of a perfectly oiled machine: 5231 women experts, 7860 accredited journalists, over 250,000 views in 2020.
The percentages of experts interviewed thanks to the database are high (around 40%), and the 2022 prediction is close to 68%. But there are more goals on the horizon and the aim to include ethnic minorities and people with disabilities.
A fourth aspect the four participating databases are working on is training. For Les Expertes, that means courses for journalists and the experts, who learn to communicate better with the media. The French program is very rich, including meetings, webinars, podcasts, and a monthly newsletter.
Even 100esperte has focused a lot on training. The database was created in 2016 by three members of the national association of women journalists GiULiA, which brings together about a thousand professionals in Italy. They are Luisella Seveso, Giovanna Pezzuoli, who unfortunately passed away this year, Maria Luisa Villa (the ENWE project founders, with Paola Rizzi), and Monia Azzalini, researcher at the Pavia Observatory and Ca' Foscari University. 100esperte has developed its database thanks to the Bracco Foundation and the European Commission's support. In this case, it is only possible to become part of the community of women experts through a very rigorous selection by universities or scientific institutes, bringing together over 360 super experts in the STEM, Economics and Finance, International Politics, History, and Philosophy areas. A new section launches every year. Access to the database is free and open and is used not only by the media but also by organizers of conferences, courses, talk shows, schools, and universities.
For years, 100esperte has been organizing face-to-face, streamed, and online courses that provide credits for the continuing professional training of journalists, which are mandatory in Italy. 100esperte also organizes meetings among the featured experts and promotes them on its website.
A geographically narrower reality than the previous ones, highly local, active, and used, Agenda d'Expertes is a Spanish database founded by Catalan journalists from Valencia to highlight female professionalism. As explained by Violeta Tena, vice president of the Uniò de Periodistes, the database stands out because of the presence of women belonging to every field, from academics of all universities in the Valencia region to agriculture workers: not superwomen but bearers of unique knowledge. There are currently 567 profiles and over 3900 users, including journalists and journalism students, and professionals outside of the communication world.
The challenge set by ENWE to create a network of databases that can multiply the beneficial effects for each project is very ambitious, but necessary to fight the gender gap. And to take steps forward in this direction, the solution can be to move on two levels: online and offline. Offline activities include events, constant contacts among those who are part of the community of experts, and a narrative that engages the recipients of the initiative. Online activities include a targeted social media strategy for a joint editorial project.
This suggestion comes from Nicoletta Vittadini, Professor of Sociology of culture and communication at Università Cattolica in Milan, who participated in the meeting as a consultant. Assuming the primary goal is to disseminate the project, because the more is known, the more it grows, it is vital to offer its ideal recipients – journalists – exciting ideas to talk about the initiative. What could make the difference in the approach between the media and the women experts is, for example, developing little tools to help the latter create an accessible and captivating profile that would spotlight their potential and communication skills. Another step that could make a difference would be to create a community of people involved and interested in ENWE, supporting and raising awareness about the initiative's true essence, which goes beyond creating a simple search engine. The inclusion of male voices and a positive and non-vindictive attitude are fundamental here. The result could be a choral fresco, in which the women experts gain their voice, and users testify to their experience in the meetings that took place through the consultation of the databases. A winning and fun communication idea could also be to create a group video of the ENWE members. All exciting ideas to reflect on.
And a lot of work to do. The commitment is to meet periodically to take stock of the situation. The Milan event on December 2 was where we left off. The next step is coming in 2022.
Watch the "How to promote a European network for women excellence" panel at this link.